Hello and welcome to Arglye Labradoodles, we are a Boutique Breeder of the Australian Labradoodle based in the beautiful Northern New South Wales, specialising in Standard and Medium sized Labradoodles.
The Australian Labradoodle are fun loving, loyal, intelligent, cheeky, with a brilliant temperament, and are remarkable to train. This coupled with their non-shedding, allergy friendly coat makes the Australian Labradoodle the perfect valued family member.
Our focus as a breeder of these jewels, is to offer healthy, well-adjusted puppies with a gentle affectionate nature and at ease to interact and train.
Our breeding stock are our cherished family pets, they come from generations of genetically sound distinguished bloodlines.
We are registered with both the NSW Government Registration Number B000899374 and the Australian Labradoodle Association.
We estimate puppies towards the end of March to beginning of April, 2021. Applications are open.
We at Argyle Labradoodles have taken great care and time to research extensively the Australian Labradoodle and have chosen (personal choice) to breed standard and large medium sized dogs, we have taken great due diligence in our choice.
Being a responsible breeder we do not Kennel or Cage our breeding dogs or puppies, our wonderful puppies are loved and socialised, they run in grassed large yards and are provided with all the stimulation and comforts to provide you with the best possible temperaments from happy, socialised puppies.
We feel our future Argyle mums will fulfil all of the above attributes with abundance.
We will be interested in guardian families when we are further into our breeding plan.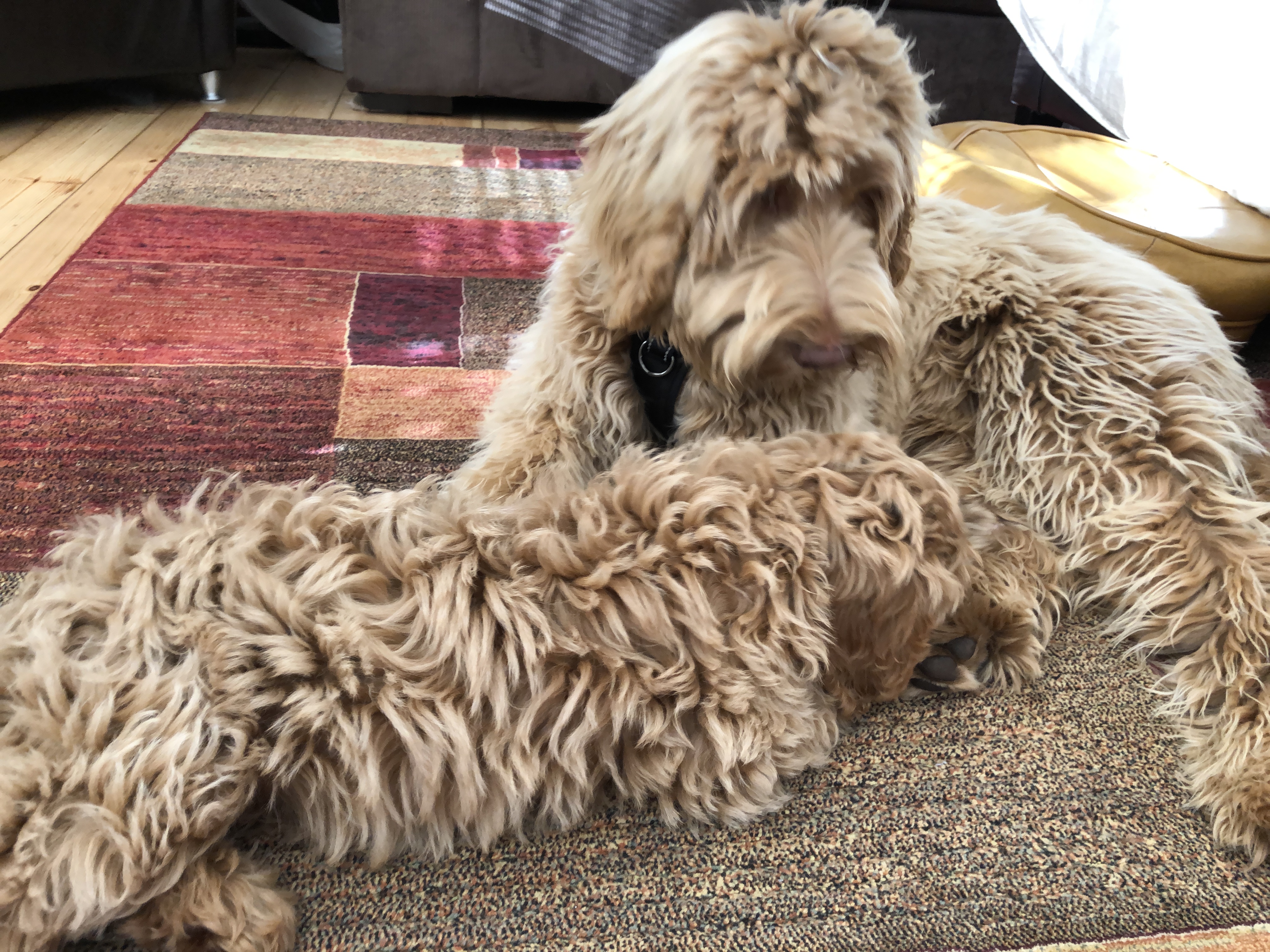 Thank you for your interest in an Argyle Labradoodle puppy. We shall use this application form to identify the puppy that best suits your family and lifestyle. Our personal guarantee is that every Argyle puppy has been born and raised in our home, they have been loved, socialised and come with puppy care notes.
Our Argyle puppies are spayed and neutered before they leave our home, this means the temperament of your puppy will not be influenced by their gender. The information you provide us with will help us choose the most suitable puppy at 6 weeks of age when we allocate the puppies on the waiting list to their future family.
Once your application has been received and approved, we will then require a non-refundable deposit of $850.00 to secure your position on our puppy waiting list. The remaining balance needs to be received into our bank account before the puppy is 8 weeks old.
The first things you notice about The Australian Labradoodles are their odourless non-shedding coats, but more and more people are won over by the wonderful disposition and kindness the Labradoodle possesses. These dogs are so versatile, with their intelligence and tenacity, they have attracted people and trainers' wanting special dogs for assistance/therapy dogs.
Anne Davey PO Box 143 Murwillumbah, 2483 NSW